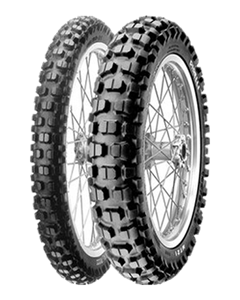 90/90-21 PIR MT 21 RC TT 54R F
A tyre designed to reach the most remote destinations, but effective also for daily use on busy roads.
Developed for globetrotting motorcyclists and rally specialists who are looking for maximum flexibility of use, from the dunes of the desert to wide-ranging tourism on asphalt roads.
A flexible carcass to ensure high stability and precision in setting and following trajectories.
An optimised tread for use on dirt tracks and gravel, cross country racing and in the desert.
High performance off road and the blocks have greater resistance to tearing thanks to the specific compound.
Front tyres
There are no front sizes available for this tyre.